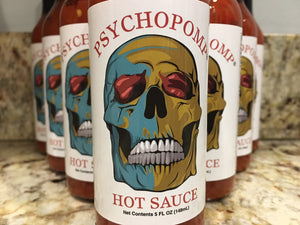 Psychopomp Hot Sauce (Original) 5 oz
I am a practicing attorney and a saucier in my spare time.  

Psychopomp ® Hot Sauce created itself. I was just the vessel.
As a child, I grew up as a fan of hot peppers. Into adulthood, I started growing peppers - everything from jalapenos to super-hots like Reapers, Scorpion, and Ghost Peppers. I made sauces for myself and my friends. These sauces were always super-hot sauces from super-hot peppers. I favor these types of sauces and I am very skilled at making them.
However, you can't use super-hot sauces everyday. I found that when I wanted an "everyday" sauce, I always turned to the "usual suspects." One day, I challenged myself to make an everyday sauce that I would love. Eventually, after many variations, I formulated the Psychopomp ® recipe.
In an epiphanic moment, on a random day, I realized that this sauce, this recipe, was my favorite everyday sauce. What followed shortly thereafter was a second epiphany: It is my unquestionable

duty

to share this amazing hot sauce with the rest of the world.
The name Psychopomp ® derives from the sauce's feature pepper - the Reaper, arguably the world's hottest pepper.  However, Psychopomp ® is also made with bell pepper, the world's mildest chili pepper, and some other lower heat peppers.  This yin / yang creates a usable everyday sauce.  
"Psychopomp" is a broad term for mystical beings that transition others between worlds- between this life and the after life. 
The grim "reaper" is a type of psychopomp. The Psychopomp ® logo is a skull with Reaper pepper pods in the eye sockets. Psychopomp ® will change the paradigm of what you know as an everyday table hot sauce.
I originally created Psychopomp ® for myself. I created a hot sauce that captured the essence of the Reaper with tolerable heat levels so that it can be placed on every table, in every home, and every restaurant in the world.
Psychopomp ® is a revolution in hot sauce. #pairswitheverything #madewithlove